Hi everyone!!
As you may have noticed, I have been a little absent this whole week, but I have been on a short trip to Athens! Actually, I'm still here, but I will be leaving tomorrow evening, so I haven't really got much time left...
But I do have to go back home, as it's my graduation day on Friday!!! After 4 years of studying, I will finally be an actual biologist!!! With a degree! I've got my dress, but still have to find a pair of shoes...... It's not going to be easy...
On a different note, I have decided to participate in a read-a-thon, for the first time ever!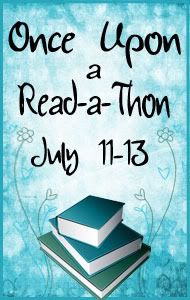 I will be taking part in this 3 day read-a-thon where I will be reading ..... well, I don't know what I will be reading, to be honest!
I do have some books that I would like to try and read and those are:
Ink Exchange by Melissa Marr (which I am reading right now)
Love Story by Jennifer Echols (an eGalley which I am pretty sure runs out very soon)
Wolf Hall by Hilary Mantel (which I have only read 200 pages of and I really want to finish!)
I'll think of a few more when I get back home and I have them all in front of me, so that I can choose properly!
And this week, I will try and get a few reviews up, as I have fallen too far behind on my reviewing.... At last count I had about 6 reviews to write, if I'm not mistaken.... :/
Good luck to everyone else participating in the readathon!