Welcome to Bookie Brunch
Come join the discussion!
Founder: Sasha Soren (Random Magic)
* Every Sunday*

Today's host: Phanee at funny wool
Next week's host (November 13th): The Fluidity of Time
This week's discussion open through: November 8th

Your host this week:
Phanee at funny wool (meeeee!!)

My guests this week:
Kiwi at Assortments
Emma at Book Angel Booktopia
Stevie at Sable Caught (on YouTube)
Kate at That Book Blog


Welcome to the Bookie Brunch! Created by the wonderful Sasha Soren, the Bookie Brunch is a traveling event where bookish people get together to discuss bookish things. Every Sunday, readers will share their opinions on a particular topic, and you are welcome to join us!

Please join me in welcoming Kiwi, Emma, Stevie and Kate to funny wool! (For all of you who are visiting for the first time, I know that my blog name is weird, but I just came up with it in a pretty random way, which is why it might not make sense!)
It also happens that today is the day that I am moving house! (Yay! Exciting stuff!) So, I hope everything with the post scheduling goes ok!
Do you like the smell of books?
Related topics to consider:
Do you have any other odd book-related obsessions? For example - must
have matching covers in your series books, must be the first to open
the book or crease the cover, or can't stand creased covers or pages,
if you have both paperback and hardcover versions of a series, the
cover art has to match etc
First up, we have Kiwi!!
My beverage for the brunch:
a mug of hot chocolate with coffee for me
My food for the brunch:
Cheese toast!
My answer:
I lurrve the smell of book, especially old ones- the yellowed paper and the musty smell.*sighs* Heck even,new crisp paperbacks smell brilliant and inviting. There apartments I live in has a library of its own; the librarian has been lighting the same incense every since he opened his library. So ALL his book smell of that particular incense which I love.
Odd-book related obsessions- mine are very Monica Geller sorts. He he!
--> Cracking spines! I cannot stand people who crack the spines of books, it makes me cringe and I swear I can hear the book groaning in pain!
--> New books, I HAVE to read them before I lend them out and when I do I cannot bear to crease the book. It has to remain brand new looking after I read it! *sheepish grin*
Thanks you for having me over at Bookie Brunch! It was a pleasure brunching with you! :D
Second up, we have Emma!!
Ohhh such a tough question to answer. No I don't think I sniff books but I maybe immune to the smell of books as I work in a library and get to be surrounded by the precious all day 5 days a week. Yeah, I know you are totally jealous but try lending them to teenagers and actively encouraging lethargic teens to read while you're at it. Hmmm not so appealing to some now is it – but I have to admit I completely love it. Going completely off the point here but I have to say this is one of the most rewarding things I have ever some with my life besides having children. When I get a pupil tell me they have enjoyed a book that I have recommended for then and what else would I recommend – well that my friends is absolutely priceless.
Goes back to the point – so no I think I am immune to the smell of books. But of the shininess of the new covers and un-creased pages when new books come into the house or the library then that is another story. What can I say but I am really glad that we have the covers to go over the books in the library. Pupils think I am psychotic in my nagging for looking after books. At the start of term my library lessons had the pupils making me posters for the rules of the library and I can tell you that every single poster had the words RESPECT THE BOOKS on it.
In my own bookcase I do like to keep the books in pristine condition as much as I am able. Occasionally I bribe the girls to dust my books for me – who wants children now :D I always, always use a bookmark and actively encourage the pupils/my girls to so the same. Dog eared pages are such a no no – ick. Plus the cracking of the spine of a book literally sends shivers up my spine. Let me tell you a little story. On one of the first days of school a girl came into the library where a pile of shiny new books were looking tempting on my new book stand (yes, I have a stand, or 3, for new books). So tempting in fact that she went to inspect one but instead of just looking at the synopsis and flicking a few pages she cracked the spine. Saying it like that 'cracked the spine' is exactly how I felt about it – jarring bones being snapped. Needless to say 'Miss' went a bit mental. The pupil does still borrow books but has a lot more respect for them since that day.
Ummm so yes I guess I have my quirks when it comes to books and how you treat them, but I do think it is a good thing to teach people to respect books; that way they last a lot longer and in the case of library books this means that a lot more people will be able to enjoy them. Budgets are greatly limited these days so looking after books is very important as we just do not have the budget to replace lost or damaged books. I hope this makes you look at how you treat books in a whole new light – if you respect that book then it allows the opportunity for other people to enjoy it too. Now how is that for a reward? Don't you want a book that you completely love to get into as many hands as possible? So now you know why I say RESPECT THE BOOKS.


Next, we have Stevie, coming to us in vlog form!
And now, Kate!
Drink (and food - in a way!) of choice:
I think my drink of choice will have to be a mug of real hot chocolate topped off with some whipped cream and marshmallows. Yum.
I love the smell of books, yes, but generally the older ones which have been gathering dust on shelves for years. New ones smell nice enough but they just don't have that same sense of nostalgia about them, do they?
I have many oddities when it comes to books, like having bookmarks facing the exact right way and reading my hardbacks without the dust jacket on. Some people don't like to break the spines of their books, but I'm obsessional about doing it every 50 pages or so. I know, it's weird. I don't mind much about having book covers match, not anymore, because I'd rather get the book cheap than have it look pretty on my shelf - and spend more money.
And last, but not least, we have me!!!
Drink of choice:
I've been in a tea mood as of late (what with my cold and all), so I am going to go with a nice hot cup of strong English tea, with two spoons of sugar!
What's not to love about the smell of books?? Old and musty smelling books just add so much more to the story between those pages! I had the good fortune of growing up in a very bookish family, so I have always been accustomed to having old, dusty books to read. And believe me when I say that we have A LOT of them... (My brother and I have decided to catalogue all our books, now that they're all accessible because of the move. Hopefully we will do it!) I also love the smell of new books, just a teeny bit less, though!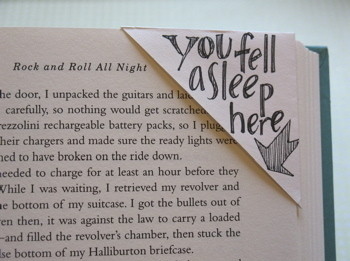 Isn't this one of the cutest bookmarks you've ever seen???
(source)
As for other bookish obsessions, I have to say I am pretty ok! I don't mind cracked spines, though I absolutely hate bent covers! I also don't mind having different editions of the books in a series on my shelf. I don't usually feel the need to have all the books in a particular series with matching covers and matching sizes (though it definitely looks nice when they're all the same). But there is one thing that I absolutely, well and truly hate and that is creased pages, especially when they're creased to act as a bookmark. USE AN ACTUAL BOOKMARK!! Seriously! I just find that so irritating. That is the reason bookmarks exist!
So, maybe I do have a few after all!
What are YOUR thoughts on the matter??? I would love to know! Really looking forward to reading all your answers!
And we have some goodies for this Bookie Brunch!
About:
She was a Victorian parson's daughter, from a remote English village, who wrote a notorious and beloved novel. That's what many people know about
Charlotte Brontė
, the author of
Jane Eyre
. Not as many
are aware that she lived a life as rich in adventure, romance, and tragedy as her famous novel. In this historical fiction thriller, Brontė finds herself embroiled in a dangerous chain of events that forces her to confront demons from her past. She works to unravel a deadly web of intrigue that threatens not only her own safety but the very fabric of the British Empire.
Author commentary:
I happened upon her story years ago, by sheer accident. I was a premed student, but my favorite study break was browsing the shelves in the library. One day I picked up a biography
of Charlotte Brontė. I was enthralled by her experience at a grim Victorian boarding school, her extraordinary siblings, her dramatic rise to literary fame, her late in life marriage, and her early, tragic death. Life intervened. I never went to med school. But I never forgot her. (
More
)
Shown above:
Portrait of Charlotte Brontė. Cropped from
Charlotte Brontė
(1850) by George Richmond. Chalk. National Portrait Gallery, London (UK). A Bookie Brunch discussion mentionining this author and a
Jane Eyre
video clip may be found
here
.
Excerpt:
There are certain events that have the power to ravage lives and alter the fate of nations, yet they transpire unnoticed by the general public and leave no record because their history is a secret locked within the minds of the few mortals involved. Such were the events that I, Charlotte Brontė, experienced in the year of 1848... (
More
)
And for the exciting stuff!!
Details:
A cozy mystery for lovers of costume drama, mysteries or literary fiction, or anyone who loves the work of Charlotte Brontė. To win, just join the discussion by leaving a thoughtful comment, or an interesting reply to someone else's answer, in the comments section below - and leave your email so you can be contacted if you win this book. Have fun and good luck! International. Through December 15, 2011, 12 midnight EDT.
Goodies brought by:
Sasha Soren (
Random Magic
)
Find Random Magic:
Trailer
|
Print (Amazon)
|
Kindle
Explore Random Magic:
YouTube
|
Tumblr
|
Twitter